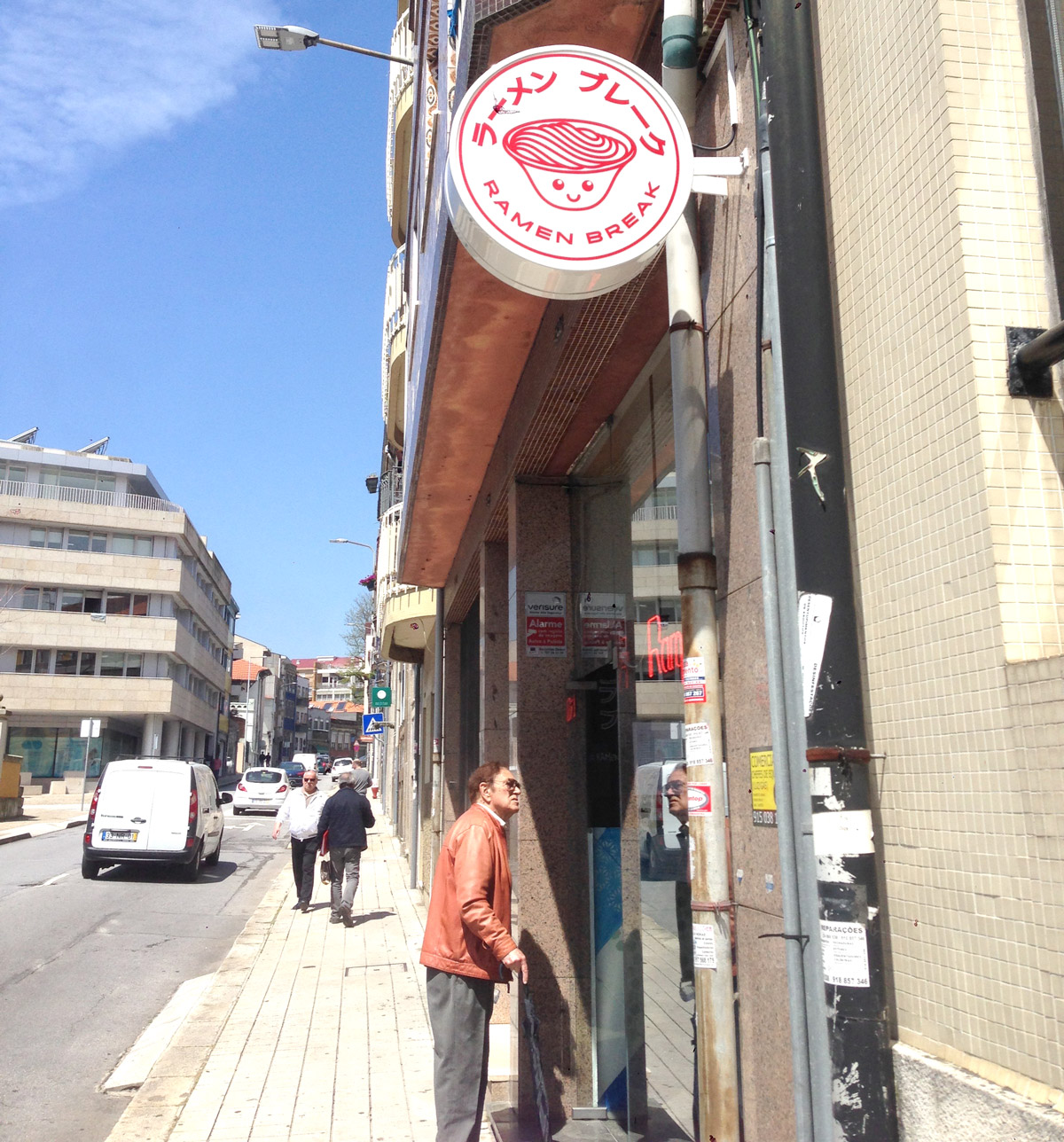 Above – "Gentleman gazing in"
With the current trends of Ramen taking over the world by storm, a Ramen joint has also arrived in a city of Porto in Portugal.
Rumour was that this restaurant was opened by by some people from Spain and I was fortunate enough to try this newly opened restaurant on its 2nd day!
The restaurant is located not in the city centre but few stops away on metro located in a relatively quiet residential area. Quite a brave move considering there is no trendy bars or restaurants around in this area.
As I approached the restaurant, cute sign and neon welcomes you from the street… And when I enter…Yes I see some colourful walls . They have put in a lot of effort creating 'art' on the walls colourful drawings depict Anime of Tokyo?… but hey Hang on, is this Tokyo, is this Japan? What is it? I don't know.. but never mind.. I am not here to critique the wall paintings….
So I was waiting for the staff to come and take the order.. hmm they don't come.. more customers started to arrive since it was their 2nd day. It seems people are ordering at the cashier first.. So I look at the menu for a moment with my Japanese friend to decide our order..
It was a bit hard for us to grasp what they were since they were all in Portuguese but we identified 2 non vegetarian stock. Salt (Shio) Ramen and Pork based.. Ok.. Let's try these.. And they are called… RAMASONIC.. and RAMAZAKI!
Names are crazy..  I am starting to understand the cultish fetish fantasy of the owner towards Japanese culture..  And perhaps this is a start of a big misunderstanding.
But never mind, let's not be so judgemental although reviewing is kind of a judgemental thing to do..
Da Da Da…
So she has arrived…
This bowl is created by a very well known Portuguese ceramic manufacturer called Bordallo Pinheiro.. Ceramic motif is created from a cabbage leaf, which is a nice Portuguese touch?? Yes I like these and I also own few of these bowls at home too.
Soup. 1/5
Pork based broth is just a bit more than a lukewarm salt water.
My friend who ordered Ramazaki with more darker soup. This darker soup tasted like a Thai Tom Yam soup, with a bit of citrus taste.
Noodle 2/5
I am slowly starting to understand that it is clearly not a Ramen but this whitish noodle made from flour is actually not bad… It has a texture somewhere between Ramen noodle, Udon and Soba.  I think they have invented a new category…
It is not a bad noodle. not bad.. But what is this…?
Topping 1/5
Pork topping is awful. The shredded pork has strong pork smell which is not treated with condiments while cooking. It has ginger, like the ones you put aside sushi, some Shitake mushrooms, small Naruto etc..
Atmosphere/Speed: 4/5
The place was very energetic on its 2nd day, and the effort they have put in to this place is very visible in everything from bamboo (Sudare) table mat, massive wall mural, to naming of the each Ramen 😃  The integrity and spirit of hosts to welcome customers is so important in Ramen joint and I could sense this very much. Speed and timing is a key in making noodles (or even Italian pasta) and they also understand this concept.
Price: 1/5
9 Euro in Porto for a noodle lunch is very expensive.
Overall 1/5
This is perhaps a harsh score for them, but I had to review this as Ramen and this is what I had to give.
But perhaps as a new concept of new cuisine it could have scored higher… It is still not an amazing bowl of noodle though.
But this is by far the most creative interpretation of Ramen and it is in the realm of fantasy and fetishism.
This place may not go bankrupt in Japan. People might visit there for different reasons other than eating Ramen.