I visited Naritake on this hot sunny Sunday in July.
France was in the finals of Euro 2016 football championship and the city was in high energy getting ready for the match.
I had few hours before catching the Eurostar back to London so I visited Nariatake, which is rumoured to be one of the best Ramen in Europe. I tried to go here 2 years ago but I had to give up the plan, since the queue was very very long.. (wait was more than 1 hour)
This time I decided to turn up before its opening time. I went there at 1820 for 1830 start. I thought I would be early but… there were already 6 people waiting outside!
It was a hot sunny 30 degree day. Frankly it's not quite the season to eat hot Ramen.. But these customers are looking serious. eager to get in before anyone else..
So I waited quietly in the heat outside.
At 1825, a staff from Naritake comes out and switches on the light for the sign outside. Precise timing..
At 1830 sharp, the door opens and we all rush into the small Ramen joint.  Feels a bit like I am getting on Ryanair.
Interior feels pretty ordinary. A bit plain perhaps. Walls are all covered in tacky orange colour. (which obviously is not how I would judge their Ramen. it is authentically tacky. this is often the case for many Ramen places)
I got ushered into a small table. There is a garlic crusher and raw garlic, and some condiments like sesame and so forth. Looks pretty simple. Nothing like these fancy capitalist Ramen places in London.. Such a relief..
The menu seems to consist of two pillars. Shoyu (Soy) Ramen and Miso Ramen, and their variations like Spicy Ramen or Chyasyu Ramen.
I decided to order Syoyu (Soy) Ramen. Personally I think Miso can often disguise taste of broth and stock. (In other words, if you go to shitty Ramen place order Miso. It would be a bit more bearable than simple salt base or soy)
It's alway best to go for a a simpler Ramen to test restaurant's stock.
On the menu there is a warning – Ramen is quite oily, so if you are not fond of oily soup, please request to be less oily.
And they also offer adjustment soup, which you can add while you eat to control oily-ness as you eat. An interesting concept.
At 1833 I order Shoyu Ramen. By 1840, the pace is full. At 1843, 10 minutes after ordering Ramen arrived. This is pretty slow considering we were all new customers. They seems to be cooking Ramen soup individually, instead of just pouring the soup from a standard stock.
Soup 5/5
When Ramen arrived at the table, I was quite surprised by the fact it had whitish colour as opposed to dark / black colour usually the case for Shoyu Ramen. They say stock is made from pork bones, so it is a bit like Tonkotsu, but it has Shyoyu taste.
Soup looks very oily. It has lots of small fatty bits floating on the surface and liquid is not so viscous.
I take few sips and it is very tasty. It has deep full bodied bone stock.
Actually I turned up to here with quite full stomach after a huge lunch. With such oily soup, I wasn't sure if I will be able to enjoy it, but I was nicely surprised. It actually kept up my appetite going till the end. Great soup.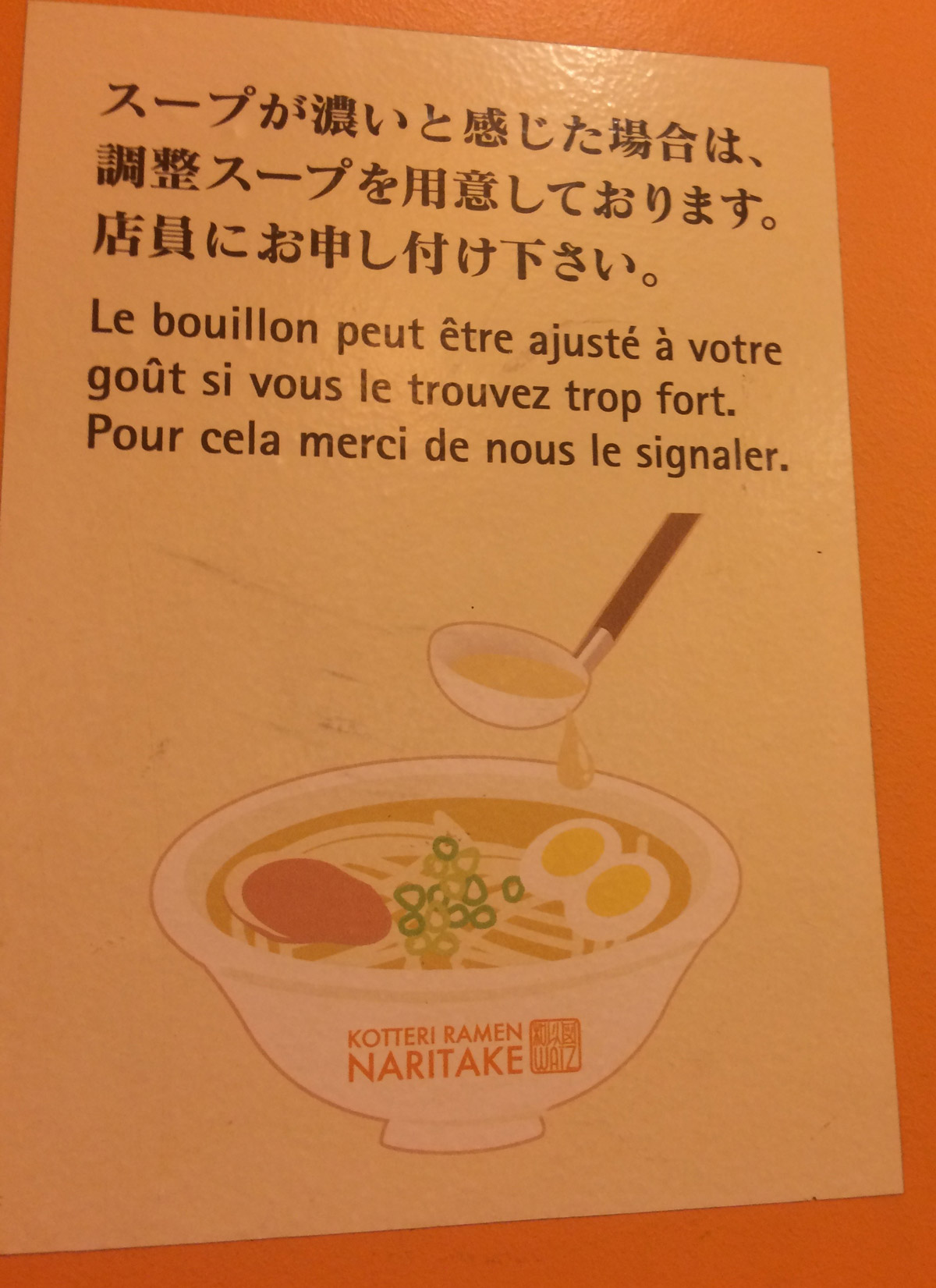 Topping 5/5
They put plenty of raw leak instead spring onions, which is very unusual. Leak has raw texture but green-ness and freshness really counteracts otherwise heavy soup. It is a very smart choice. Bean sprouts also does the similar job in the background. You also get small bit of Shina Chiku (bamboo). This is a bit salty and normal. I could have it without this.
There is one piece of Chyasyu (pork) which is also very tasty. A bit fatty too, so this is probably also the reason why they only put one oily Chyasyu. Well thought out.
Noodle. 4/5
It is much thicker than Hakata syle Ramen. It's curly Honsyu style Ramen. Thickness and consistency almost reminds me of Champon noodles. For me I am not usually a big fan of these curly ramen noodles but this one is very good. It is springy and hardness is just right.
Volume of noodle is quite plenty already but they also offer double size Ramen for extra €3. This is pretty reasonable..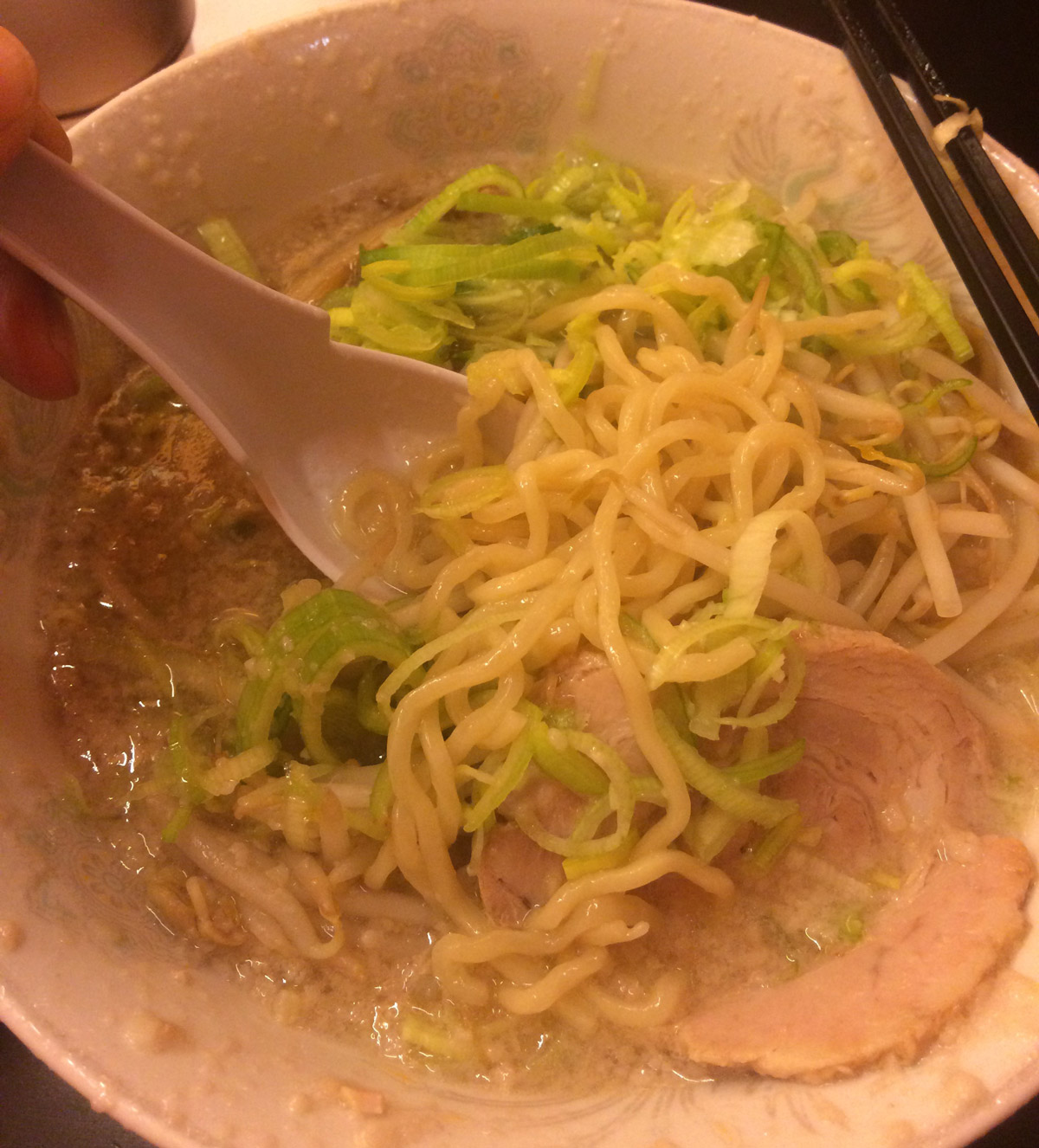 Atmosphere and Service 4/5
The place feels a bit too serious for me. I suppose it's Paris and they are supposed to be number one Ramen there. Many customers queue outside and people are stressed out. And staff also have to be super professional and be fair to customers. You also need to be Parisian in their attitude.. I get it… but perhaps smile more guys!
Toilet was relatively clean but nothing like some large capital rich Ramen joints in London.
Price 5/5
€10 for a bowl of Ramen. It's pretty good in Paris. No service charge or hidden cost like in London.
I have to say this was the best Ramen I had in Schengen EU zone. (oh the sad story of Brexit..)
Overall 5/5. 
I was super surprised that I ate the whole bowl. I was quite full when I turned up and on a hot day when I often loose appetite.
I ended up eating the whole bowl with quite a plentiful amount of noodle.
As I ate more noodle, and sipped more soup, of course I started to feel quite full of oily soup and saltines, but perhaps this is when I needed the 'control' soup to adjust the strong soup.
Despite its oily soup, this is a actually a well thought out Ramen with just the right amount of balance. Their decision to go so oily is quite brave, and they have created a mechanism to overcome this issue.
Naritake has around 5 restaurants Tokyo. They have 3.8 Star rating in Tabelog (Japanese food review website). I rate 5 starts for this blog in relation to other Ramen on the continent I tested. Very good Ramen!
Kotteri Ramen Naritake
Address:
31 Rue des Petits Champs, 75001 Paris, France