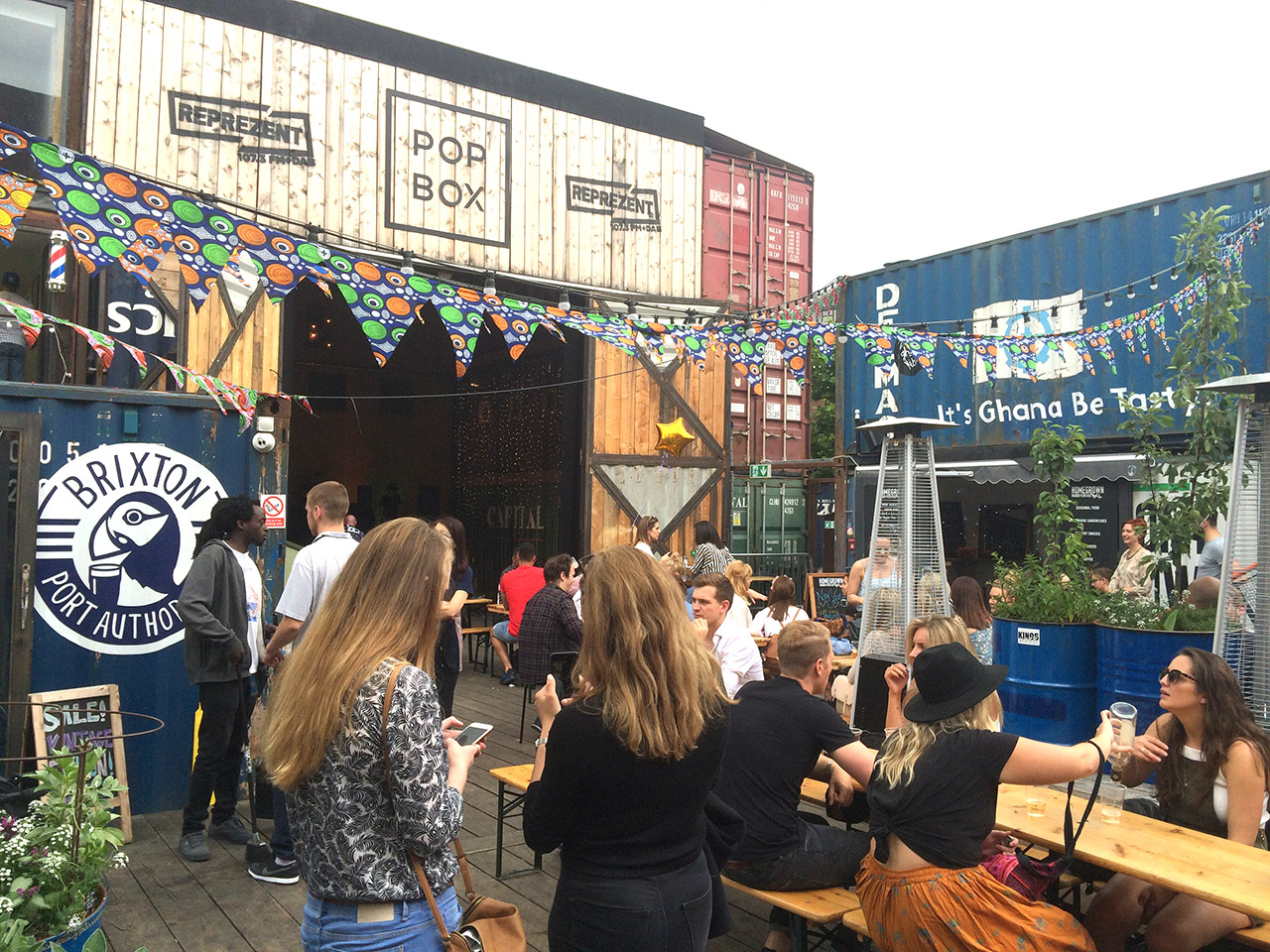 Saturday morning.. I got a call from a friend and he asked me if I wanted to go to a music festival at Broxwell Park near Brixton.
Super spontaneous decision but I was urged to go and see DJ's like Derrick May (whom I first saw 20 years ago as a youngster) and Theo Parrish.
I also knew there is a new Ramen kiosk at Pop Brixton which is like a small village consisting of pop up bars and food stalls made of shipping containers.
Arriving at Brixton station on Saturday lunch time, I was reminded how much energy this place has.. Live Caribbean music playing on the street, many people shouting selling stuff in the market.. (I also got a flyer for voodoo spiritual counselling on the street..)
We walked for about 5 minutes to Pop Brixton. There were many young crowed hanging out, drinking, and dance music blasting from speakers. It's kind of like nice Berlin summer outdoor vibe..
We didn't mess around and we just headed to Koi Ramen to order. It is a bit like Japanese Yatai food stall. Kitchen is fully visible and their setup is simple. It's not grand like other hip Ramen place. We waited 3 minutes and we got served a simple Ramen in a paper container.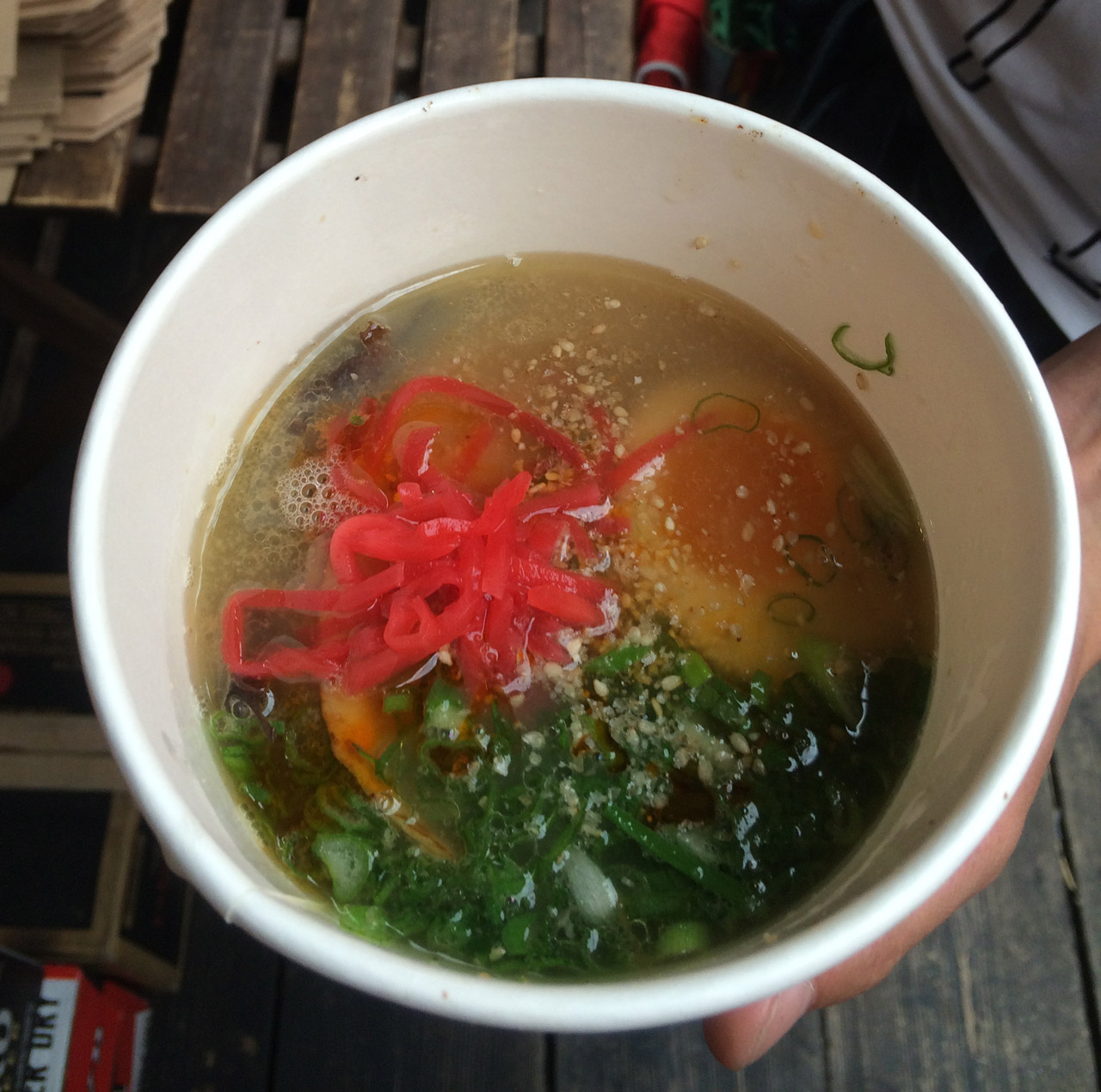 Soup 5/5
First sip was a nice surprise. It has stronger than usual (for London) Tonkotsu bone smell reminiscent of dirty Yatai in Fukuoka (where I grew up and Tonkotsu is from). It is a tad salty but as you eat more, saltiness was not too much of a problem. Considering it is served outdoor in the beer garden, may be it is not a bad side dish for drinking.
And I was very happy that soup is very hot! There are too many Ramen in London with lukewarm soup. In Japan Ramen is hot. And we eat it fast. That's why we slurp.
Noodle 4/5
Noodle is not bad either. It is could have slightly more Koshi (springy-ness) but in this context it is not bad at all.
Topping 4/5
Chyashyu is thin but works well with noodle and hot soup. We had to pay 50p more for the egg but egg was also nice.
Price 5/5
It was £6, this is the
cheapest Ramen
I know in London. They don't provide much seating and people sit on the bench in the middle of the outdoor food court. Running cost must be much lower then renting in Piccadilly Circus, but this setup also provide fresh experience to customers.
Overall 5/5
Ok, so it is a simple Ramen served in a paper container and you have to sit or stand outside to eat. But this is the true spirit of Ramen. Quick noodle, eat fast while it's hot..  Ramen master kept the price low but the spirit high unlike other hipster gourmet Ramen bars in London. We ate in 3 minutes, then headed to the rave. It gave us a boost before dancing. 🙂
This place will NOT go bankrupt in Japan. I have tasted many Ramen in Japan which appears at a seasonal festivals on temporary basis and I have seen many Ramen a lot worse than this. So well done guys!
I would say this simple Ramen may be the BEST in London as of today, considering the price, whitest other capital-rich Ramen joints continue to foster more complicated side of Tonkotsu.
Pop Brixton, 49 Brixton Station RoadLondon
0 7796 463972
http://www.koiramenbar.co.uk/
https://www.facebook.com/koiramenbar