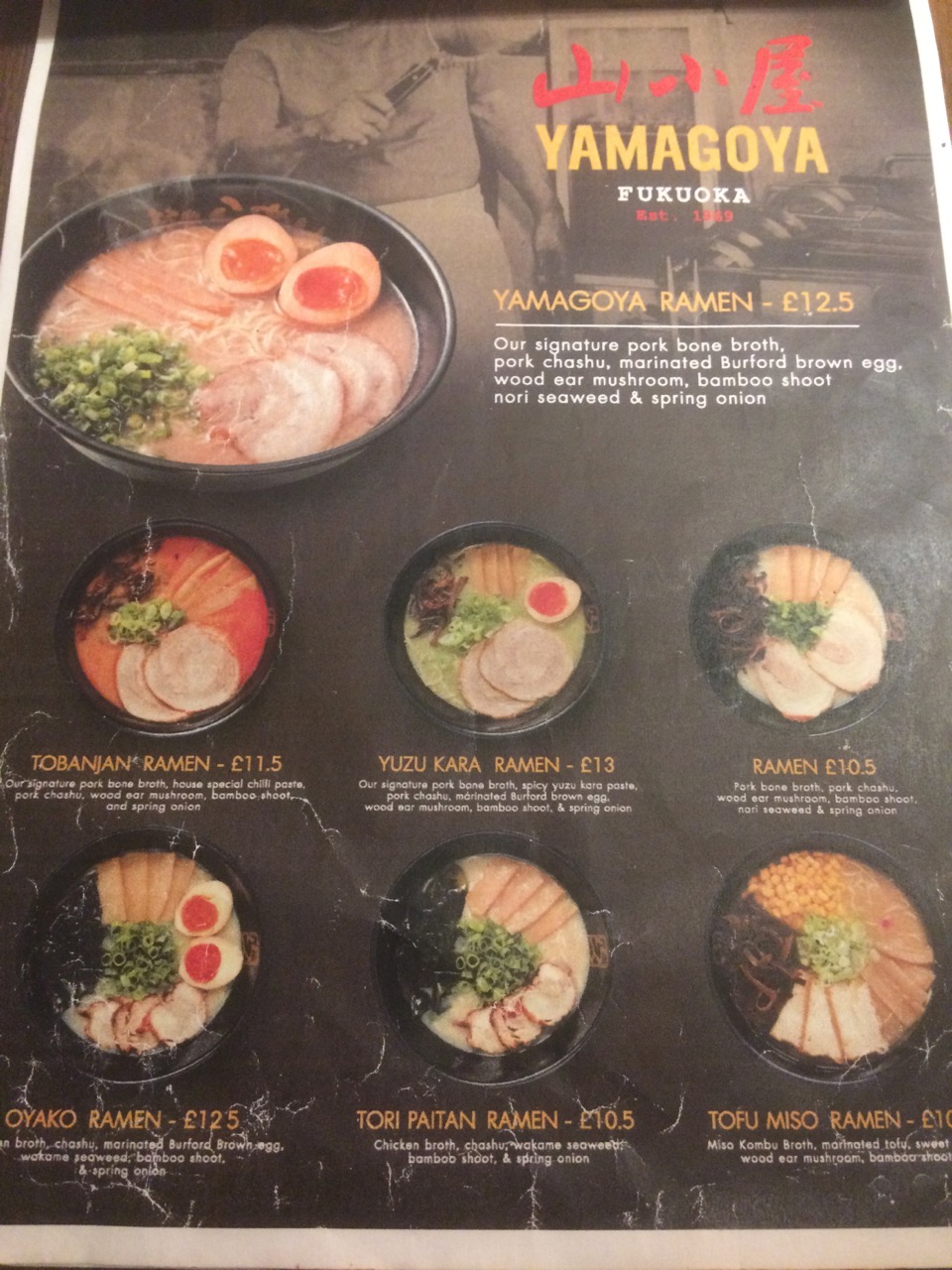 I was out with a friend visiting a fantastic video art exhibition called Infinite Mix organised by South Bank Centre on 180 The Strand on a rainy Saturday afternoon. Friends left, and I was a bit hungry so I walked to CHiatown to this new Ramen joint which I heard from a friend. Apparently it's a new pop up Ramen joint serving Tonkotsu from Kyusyu so I had to give it a go. (I am from Fukuoka home of Tonkotsu)
Their website claims they have been operating in Fukuoka for 47 years. Ok I was born there but I have never heard of them… (perhaps not a good start..)
It is situated above Shuang Shuang which is a very popular trendy Chinese hot pot restaurant on Shaftesbury Ave in China town. Shuang Shuang use same mechanism as Sushi Train to bring different ingridients for the hot pot and there was a huge queue outside to get in.
Yamagoya occupies 1st floor of Shuang Shuang temporarily and I could just skip the queue and go upstairs which was very empty. (Shuang Shuang must be regretting not having this seat space for them)
Ok so I ordered top of the list on the menu, – 'Yamagoya Ramen'.. seems like this is their straight ball. (Always order their forte, usually first item on the menu, with their restaurant name)
Soup 3/5
For Tonkotsu not so heavy/oily.
A bit creamy ok.. like average chain Ramen in Fukuoka. It lacks in depth.
Noodle 2/5
Lacks originality, plain, Not so much Koshi (springy-ness)
Topping 2/5
Egg was ok but pork was super thin and not so tasty. Spring onion is not fresh
Service 2/5
It seems staff of Shuang Shuang is tasked to take orders and serve. They were quite grumpy and I had to speak loudly to get my bill even though it was obvious I needed to leave.
Price 1/5
£14.06 including VAT including 12.5 service harge. Pure rip off
Overall. 1/5
Not very good Ramen. Using name of my home town Fukuoka and Tonkotsu to try to make some bucks in London. (If they didn't put FUKUOKA below their logo I would have rated 2/5.)
Don't bother.
Yamagoya
http://www.yamagoya.co.uk/
On 1st Floor of Shuang Shuang, 64 Shaftesbury Ave, London, W1D 6LU