Tonkotsu Lobster Ramen

Cocoro restaurant in Marylebone has a new place by The British Museum in Bloomsbury. They serve reasonably priced food during the lunch time as well as for dinner, but at night they turn into more Izakaya style (Japanese Tapas?) food.Inside quite extensive menu selection, there was a section for Ramen. Usually when you see this kind of set up, – Ramen being amongst many other Japanese food in the menu, it is usually a bad sign.. Ramen joint usually specialises in Ramen. and one main stock. Don't spread yourself too thin..
I was trying to order Tonkotsu, but the waitress suggested a special limited edition Ramen for today. – Tonkotsu Lobster Ramen. Apparently it's Tonkotsu base soup with Lobster stock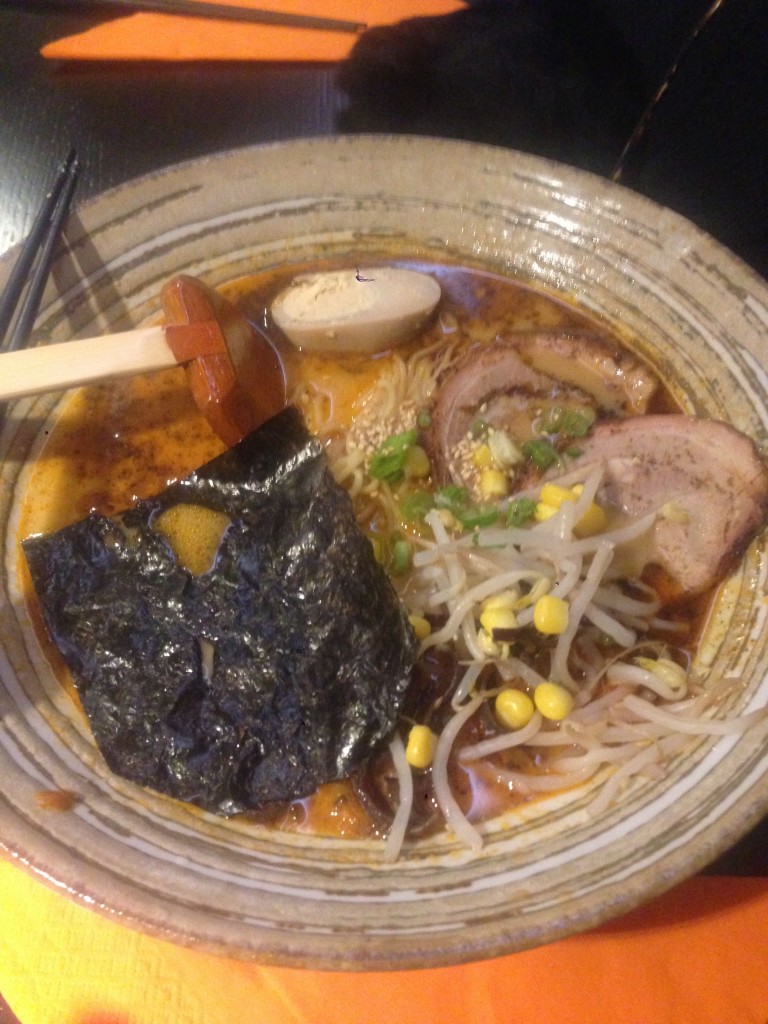 .
mmm…
Ok, usually I am a traditionalist but what the heck I will give it a go..
So they serve topping on a separate dish from the soup, so that you can put them yourself.. fancy~ ..
Topping 4/5
Apart from it not having Lobster meat topping, (I guess this is lobster stock soup Ramen, not lobster ramen) they are pretty good. Chyasu (Pork) is 5/5 and best in London! Boiled egg was not so great. it was cold and didn't have much of soy flavoured soft yoke seen with other Ramen.
Noodle 4/5
It's not the traditional thin Hosomen (Hakata) style but it is pretty good. Not too floury compared to the one from Tonkotsu (Soho/East).
(further research showed they use Nishiyama noodles from Hokkaido. Whether they are making their own noodles in London using Nishiyama recipe or they simply use Nishiyama pre-made is unknown. I will check next time. )
Soup 4/5
Soup was amazingly tasty. Although I found it's a bit cheating to put lobster stock to make luxurious Ramen.. They have mixed it with Tonkotsu base, and that base tasted pretty good too but definitely lobster brought it up a notch. So well done for this new innovation, but I would like to try pure Tonkotsu next time to see how it is..
Price 3/5
£13.80 + 12.5% service charge
Ok, it's lobster base and it is associated with high life, but .. no lobster meat ! you just used lobster shell to cook the broth didn't you?~
Service/atmosphere 4/5
When I visited on Friday night, there were some Japanese business men eating and drinking after work. Waitress offered they items that are not on the menu. Staff seemed quite nice in general and personable.
Overall: 4/ 5 
I was pleasantly surprised by this visit as this place is a bit under the radar as a Ramen joint. But these guys are serving pretty solid noodles. This place is not about being hip or being on the Ramen hype, while some other Ramen restaurants in London try too hard with architecturally designed decor for hipsters who get pleased by the hype not taste…
I would almost say this was the best bowl of Ramen I had in London.
seriously.
This place would not go bankrupt in Japan. In fact it could be quite popular in Japan.
Cocoro
25 Coptic Street, London WC1A 1NT