My Japanese chef friend told me that there is another new Ramen restaurant in Brixton (I tried Okan and Koi in Brixton) and pictures she sent me looked pretty good so I decided to visit there for Sunday lunch…
Brixton on sunny early afternoon was hustling and bustling with energy with pre-Xmas? shoppers? Well it's always busy and energetic there anyways but I was in pretty good mood when I got there.
Nanban was just about 500 metres from the station, easy to find and there was a cute sign outside. I walked in and the place looks pretty big. It has down stairs and upstairs. Upstairs hosts a number of big booths and they all look like a carriage behind horses with wheels..  Overall interior is decorated with old Japanese signs, mostly Kyusyu (where I am from) and bars and tables are in the style of trendy copper and wood style.
There is also a bar counter, and behind the bar there are lots of nice whiskies and sake. Probably overpriced but the range is impressive. Ok so it's obvious they have spent a bit of money making it trendy..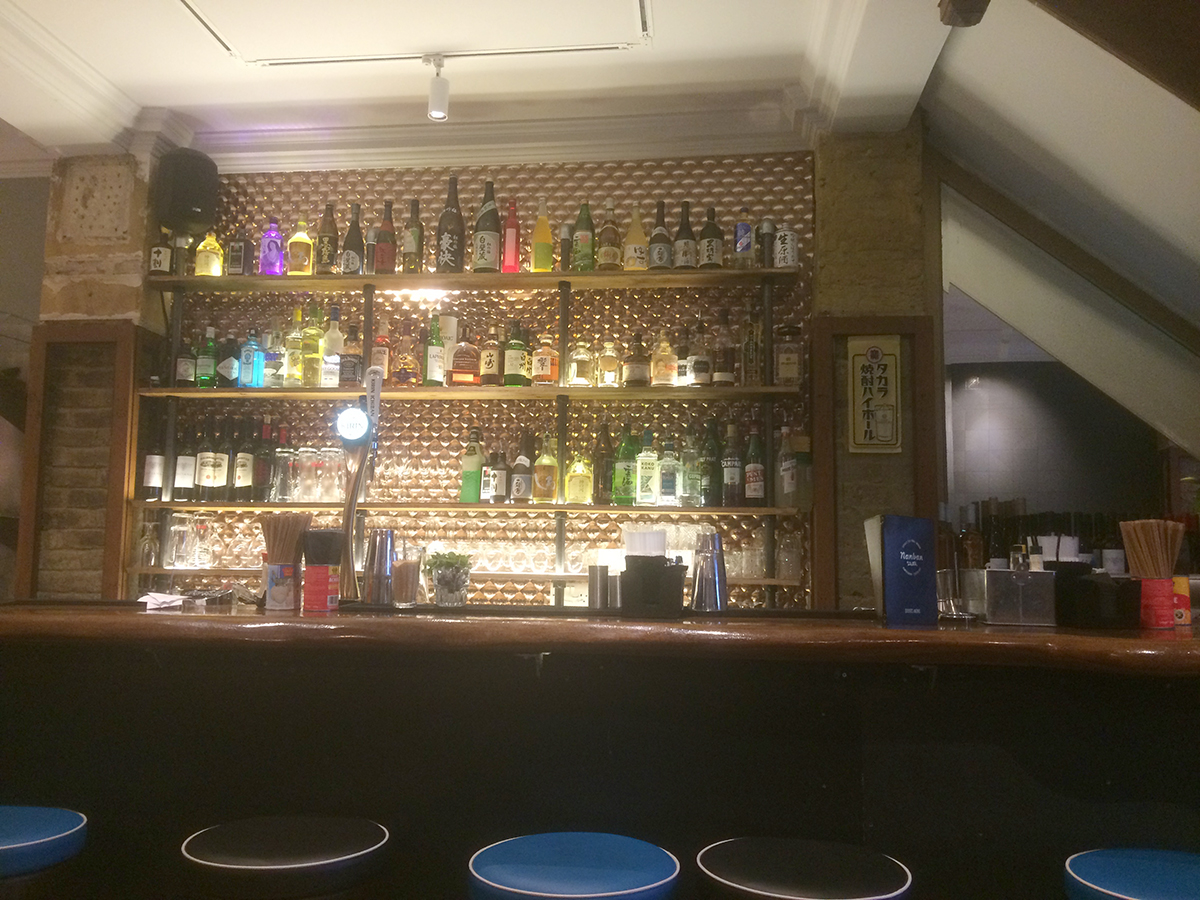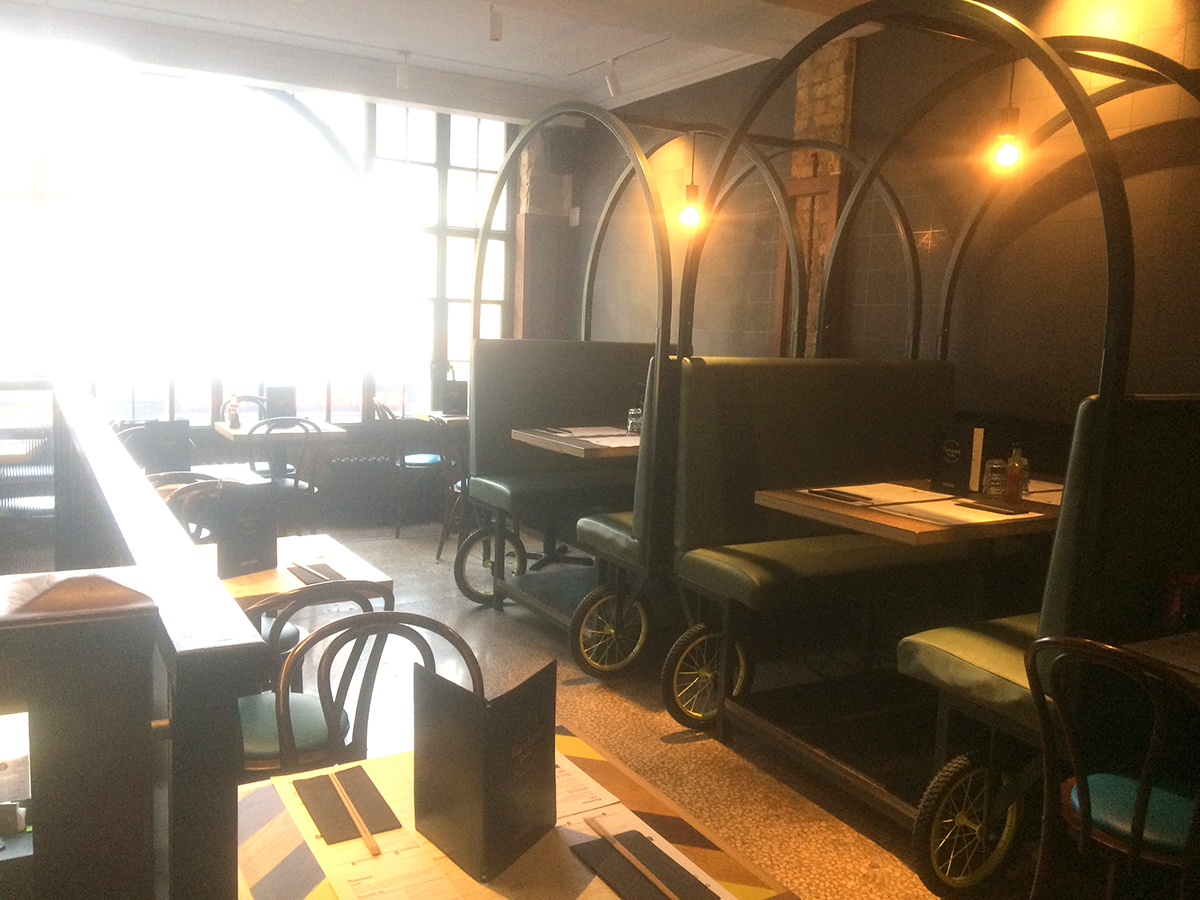 I sat down and look at the menu. It's a huge menu with many kind of Ramen and small dishes, cold noodles, and even burgers. I am starting to feel a bit suspicious but I just go with my old trick and order what's at the top of the ramen list. It is Kumamoto Ramen.
Kumamoto is a prefecture south of Fukuoka where I was born. There is a big volcano, Aso which recently exploded. Kumamoto Ramen is a flavour of Tonkotsu and it is usually a bit more stronger and animalistic. Perhaps not as refined as Hakata but usually has more punch.
I waited about 5 minutes and here it is … wft…
First of all, no steam is coming out and soup is more like a stew!
Soup 1/5
Soup was not hot. It is super thick and too viscous. It is thick yet lacks in taste. I almost wanted to add soy source and hot water. Definite no.
Topping 1/5
Chyasyu is basically a thick pork belly. Mostly fat with no meat. how I am supposed to eat this?
Egg is seasoned with soy but yoke is a bit dry.
Dried garlic is sprinkled a lot on top. I don't really like it. taste like burned nuts.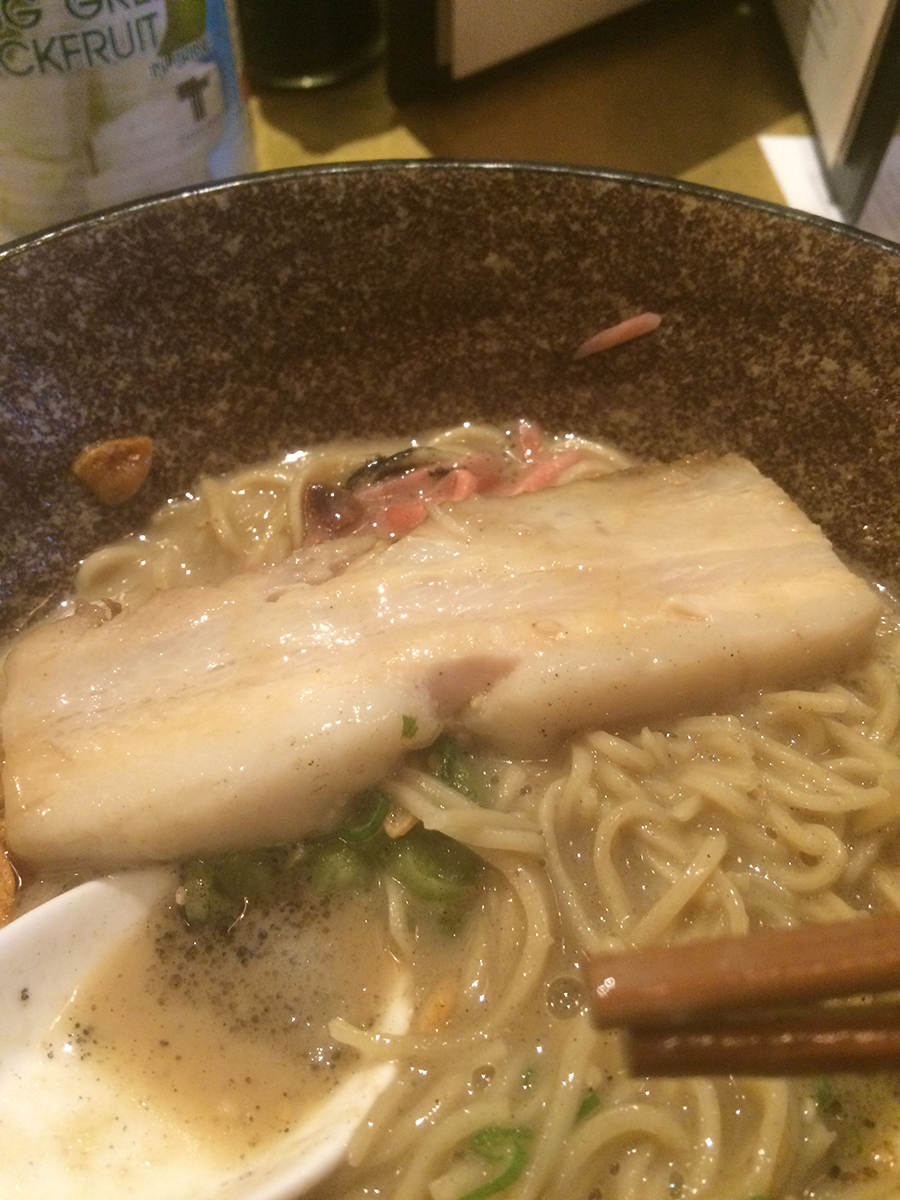 Noodle 0/5
Noodle came so soft.. it's gluten content is affecting the soup. It is not egg like more like overcooked pasta. terrible.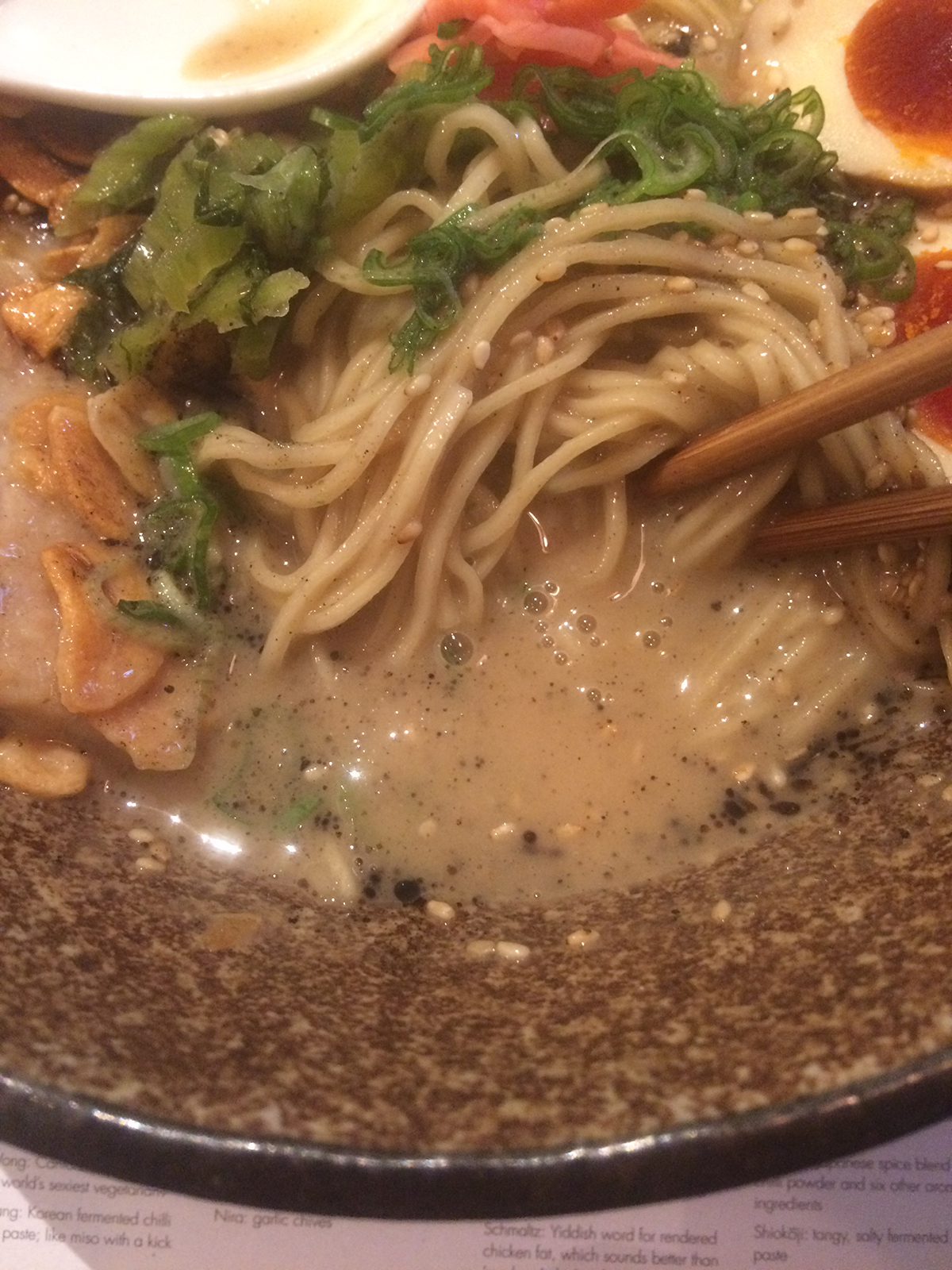 AROUND THIS TIME, when I started to eat the noodles, my friend from Berlin called and asked me "Do you have a girl friend xxx (my first name)?" very strange call?!
I was like "ughh..no? what? have you found the one for me?"
No, actually he was asking me this because he had a suite room at Ace Hotel booked which he wanted me to stay with a lady.. I started to think who I could invite.. but no I couldn't really think of anyone so I decided to complete eating Ramen and called him back later.  I told him may be he'd better give it to someone else since it's not going to be a romantic stay for me.
(back to the review)
Service 1/5
I asked for the bill and this waiter was very unresponsive. When I went to pay with the contactless card, he just touched the card without showing me how much he was charging. I asked him to come back and show me the card machine receipt, just to check the amount, but he kept saying no, no from far away and he wouldn't come.. I just wanted to see the receipt he took away… He didn't even give me a chance to explain..
Price 2/5
£13.44 including 12.5% with compulsory 'optional' service charge. Not for this…
Overall 1/5
Nothing good about this Kumamoto Ramen. They are just trying to fool people with old signs and nice decoration.
Although if you are feeling brave you should go and try other Ramen such as Miyazaki Ramen (another Kyusyu area). Also it was Sunday and best staff was not attending the kitchen. But again that would be a bad excuse and they should have consistent standard all the time.
PS. So my friend insisted I should go and have a mini holiday at Ace Hotel anyways, so I am now here in this nice room drinking a room service wine and writing this Ramen blog alone. Dedication!
Nanban
www.nanban.co.uk
426 Coldharbour Ln, Brixton, London SW9 8LF