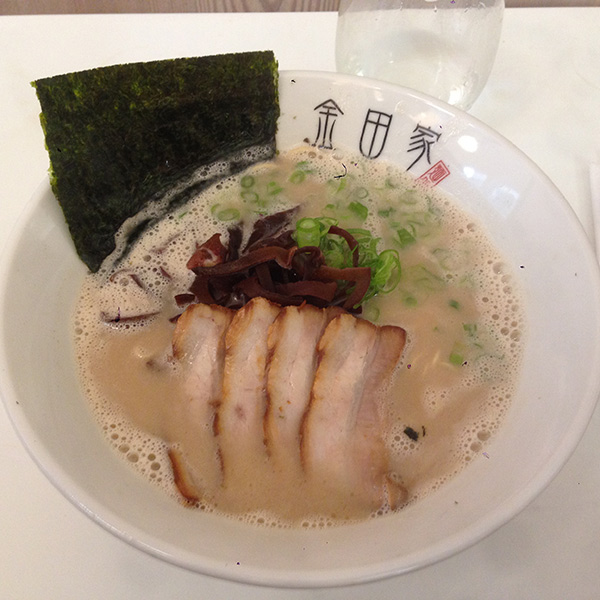 I heard a rumour that Ippudo London is opening in October and their twitter account was saying something about half price so I assumed it's already open and I went to pay a visit. Unfortunately it was quite clear that they are still under preparation for the opening. Then across the road I saw people queuing for Kanada-ya Ramen!
Compared to the size of Ippudo, it is much smaller, but they must have known that Ippudo is opening on the opposite side. What a brave small ramen joint! These guys must be confident that they can beat Ippudo. I had to give it a try.
I waited outside in a queue for about 3 minutes, I sat down and a lady gave me a glass of water straight away, they seem to have quite swift service. The place is quite small but open plan with kitchen being exposed. Looks kind of modern and ok..
Soup. 4/5
It is a classic Tonkotsu taste. It reminded me of having Ramen after school on the way home in Fukuoka growing up.. It is that kind of snack tasting as oppose to Lunch or Dinner taste if you know what I mean.. It's a bit like eating crisps, rather than eating baked potatoes. Personally I like it to be less snack like, and be more meal like..
Noodle 5/5
Good Kata-men (Hard noodles – They ask you how hard you want it) Classic Hakata Hosomen (thin)
Topping 4/5
I like how neatly toppings were sitting. Pork is ok not amazing but pretty good.
Service 5/5
Service was swift and when I ordered Kaedama (extra noodle), it arrived in about 80 seconds. As I mentioned in Ippudo NYC review, this means my Kaedama was served before other customers' Ramen, making sure my soup don't get cold while I wait. And Kaedama was served with a bit of spring onions and some sauce, which is a nice touch as sometimes taste of the soup needs a bit of a kick after each Kaedama.
Atmosphere 3/5
As they have just opened, the interior is new, but on the way to the toilet downstairs, floor was sooo oily and silipery from Tonkotsu! They must have walked on oily kitchen and walked all over the place.
Price 5/5
£9 including VAT for Ramen is acceptable and £1.5 for Kaedama is also nice. I paid £11.50 and I was full.
Overall 5/5
With my sincere wishes to them battling Ippudo when they open.
They would not go bankrupt in Japan.
http://www.kanada-ya.com/
https://www.facebook.com/kanadayaldn
Kanada-Ya
64 St Giles High Street
London WC2H 8LE
Monday to Saturday 12pm-3pm and 5pm-10pm