Ippudo started in Daimyo Fukuoka (Hakata), when I was about 12 or 13 years old. Around the time I was just starting to eat out Ramen with friends after school. I have since left Fukuoka, lived and travelled around the world and so as Ippudo, and we meet here again in London. Ippudo now has over 100 restaurants in more than 10 countries.
Ippudo was quite radical since the beginning. They introduced Aka-Maru (red circle) and Shiro-maru (white circle) as two main Ramen to chose from. Aka-maru has stronger broth and Shiro-maru a bit milder. This was quite unpopular among hardcore Hakata Ramen fan, such as my father. Traditional Ramen goers in Hakata thought Ramen restaurant should have one Tonkotsu taste and that's it.
Over the years, this two taste approach along with clean contemporary atmosphere and good service created new audience, especially women, and proved to work internationally as well.
I visited Ippudo in New York few years ago and I could see that Ippudo has standardised Japanese service, kitchen operation, and how to run a international Ramen business.
After much anticipation, Ippudo finally opened near Tottenham Court Road. Its premises is in a contemporary business building complex with glass windows all around it. It occupies 2 floors and the kitchen is located on the each floor, as well as a bar and an extra kitchen on the ground floor. This is a serious Ramen restaurant.
Upon entering the restaurant, you are greeted with "Irassyaimase!" (Welcome! in Japanese) by all the staff in the place. I was guided by an a European woman who shouted the table number I am guided to in Japanese, and whole restaurants again responds (shouts) in Japanese to acknowledge this. This kind of service is typical in Japan as some Japanese people like this clear manners and politeness as part of a customer service.
I was guided to upstairs, the waitress again shouted my seat number (a new customer is sitting at seat 72!) Ok So I finally sat down and ordered straight away – Aka-Maru (Red, more stronger broth) lunch set with Unagi (Eel) rice. Upon ordering the waiter again shouts my order and the whole restaurants responds. A bit cultish.
The eel rice came within few minutes and I thought Ramen must come pretty soon after if not at the same time as rice. But no.. I waited at least 5 or 6 minutes and my rice was getting cold.. Rice should be served almost the same time as Ramen! Who eats rice on its own?
Eventually, Ramen arrived. Size of the bow is quite big. Serving is not too small. Looks good.
1) Soup 3/5
Despite Aka-maru is advertised as 'stronger' Tonkotsu taste, it didn't have such a strong Tonkotsu taste. It is not a bad taste but it is a bit like driving VW Golf or Toyota Corolla. A bit too standard..
2) Noodle 3/5
I am sure they make their noodle here. and it was ok at first.
But when I ordered Kaedama (extra noodle), it was too wet and sticky. Unlike its neighbour !
Kaedama took about 2 minutes and 15 seconds and it was too long. Kanda-ya was 80 seconds! More time I wait less hot the soup gets. So I wasn't too happy with this wait and soggy Kaedama I received.
3) Service 5/5
It is amazing each one of the staff almost appears to speak Japanese and create the same level of service as in Japan. They probably had intensive service and language training to provide this level of service. This is all good but for me, it seems a bit creepy, these white people trained to act like Japanese robot staff!
Ok may be I am being too harsh.  They do have top level service.
4) Atmosphere 4/4
This Ramen restaurant is super decked out, contemporary and clean. But with this, it looses personal and family feeling. Do I get to see the same staff every time? Probably not, as it appears they have about 40 staff working at any one point.
5) Price 3/4
13.50 for Lunch set with eel rice (it was not that good) and 1.50 for Kaedama
plus service charge came to £16.88 in total. It is not cheap.
Overall 4/5
This restaurant is part of a big successful business and they have worked out the formula for success. Table allocation to the fridge temperature to the noodle broth mix, everything is quantified, standardised and written and taught as knowledge. This brings high quality of service, environment, and good Ramen.
But personally I also want to talk to owner of the Ramen joint face to face and ask him to make the noodle a bit harder for just me.
This restaurant is not bankrupt in Japan, and is very successful all over the world.
Exterrior view of grand Ippudo vs Small Kanda-ya across the road on typical rainy London day (below)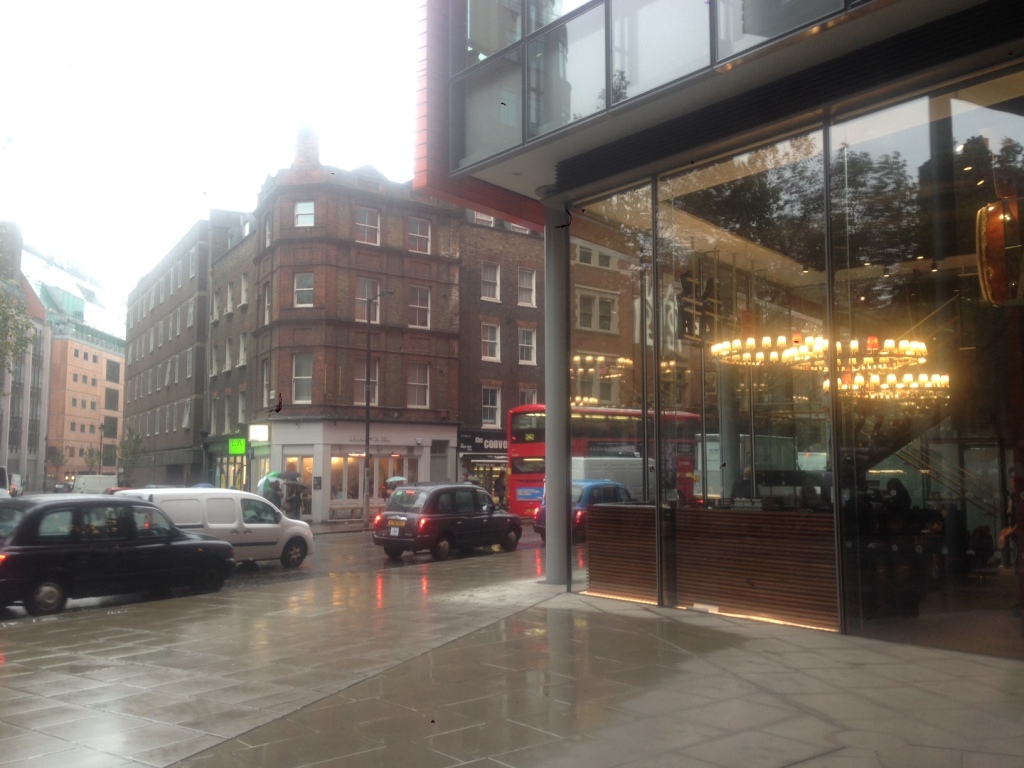 Ippudo London
Central St Giles Piazza, London WC2H 8AG
http://www.ippudo.co.uk/
https://www.facebook.com/ippudolondon