Ordered – Shiro-maru (White circle)
Style – Hakata / Tonkotsu
I remember when Ippudo first opened in Fukuoka, next to my uncle's shop in Tenjin about 20 years ago. It was this new kind of Hakata Ramen joint that approached Ramen business differently from the usual and older traditional joints run by one Ramen master. One of which was that they have two streams of Ramen, Shiro-maru (White) and Aka-maru (Red). Shiro-maru is more traditional Hakata white Tonkotsu stock, whereas Akamaru is richer version of Tonkotsu that has bit more of a spicy kick. They also employ many young and energetic staff who constantly shouts relaying orders and greet customers.
This new style and approach to business took off. They expanded chain of restaurants around Japan and now they are here in New York City. I have been hearing people are queuing for ages to get a taste of Ippudo in NYC and I wanted to try if they have grown to a new Ramen in the last 20 years.
Soup 5/5
Shiro-maru was at the top of the long list of menu. I had to try their straight ballShiro-maru, their Tonkotsu flavour.  It is very good Tonkotsu Ramen stock which brought many memories of my childhood eating Hakata Ramen after school.
Noodle 5/5
It is typical Hoso-men (thin noodle) akin to Hakata Ramen and they are able to maintain same level of quality in USA as in Japan. I also ordered Kaedama (extra top-up noodle) which is Hakata Ramen's speciality. This extra noodle comes on a plate and you put the noodles into your bowl.
Thing about Kaedama is that you should have enough warm soup when you finish your first batch of noodles so that when you get the extra noodles, you can maintain the warm temperature of Ramen and enough liquid to soak the new warm noodles into.
From the Ramen joint point of view, timing is the key while the customer eagerly awaits for Kaedama (extra noodle) with soup gradually getting colder. Ramen chef has to boil the noodle swiftly and deliver Kaedama before customer's soup gets cold. I would say this is 60-90 seconds max. I get a bit anxious waiting for Kaedama, looking at my big bowl of ramen with just soup and saved topping sitting.
So Kaedama is a top priority for the chefs. They can't make Kaedama waiters disappoint with cold soup. It's perhaps like when I get espresso takeaway at a cafe on the way to work. I should be on priority, not the people who have time to sit at the cafe and drink coffee and chat.
These guys served my noodle in about 70 seconds. It's impressive.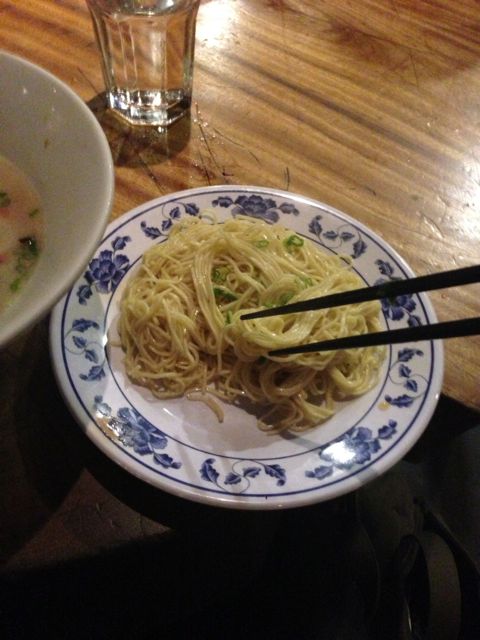 Service 4/5
Service is great, as soon as my glass of water is not full, someone tops up with not too cold not too warm water.
I was lucky enough not to queue because I went there as soon as they opened at 5PM, but when I came out of the restaurant there were people waiting. Sometimes you have to wait on street as queue gets longer.
Atmosphere 4/5
Personality I am a bit of traditionalist and I am not sure of this shouting for every order and loud greetings for welcome and goodbye. It is a bit too much of a Karate do-jo for me.
Price 2/5
Sorry but $15USD for Ramen is a bit too much. In Hakata/Fukuoka, Ramen are still served around 500Yen ($5USD) or less. After Kaedama (extra noodle), NY state tax and tip, I walked away paying $25USD for Ramen!

Ippudo, don't cream the hype and spoil your future.. You are not a steak house.
Rating: 4/ 5
You can sense immense efforts behind growing a local Ramen joint to a successful international food business. Quality control from the taste of Ramen to fridge temperature is conducted at a high level.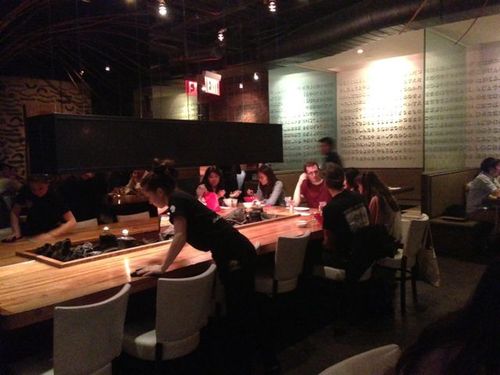 Only downside to elevating Ramen business to this level and expanding internationally, is that it can never replace the warmth and intimacy of a street wagon style Ramen joint run by an old chef talking about affairs of everyday drinking Sake into late hours.
Ippudo NY
65 4th Ave  New York, NY 10003, United States
+1 212-388-0088