Tonkotsu Ramen
Another new Ramen spot in central London, Muga is just near where old Japan Centre used to be, very close to original Shoryu. I saw an advert on a Japanese magazine and decided to give it a try.
I visited around 12 o'clock and place already had few people in. Seems quite popular.. It looks like it's a bar at night in Izakaya style. I ordered Tonkotsu Ramen as a lunch set which came with half fried rice.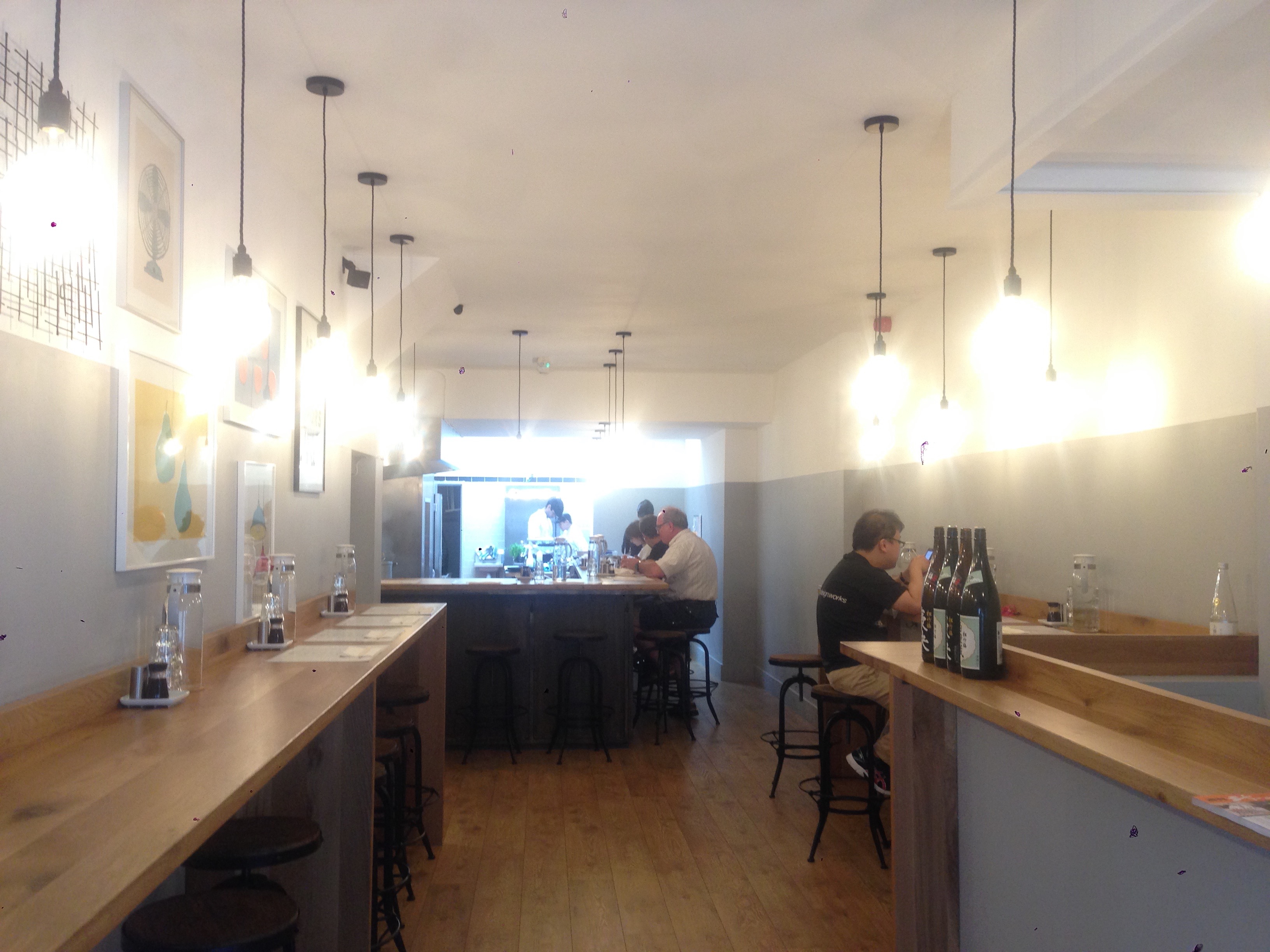 Soup 3/5
I was hungry and I enjoyed first few sips but later I realised it's not real strong Tonkotsu bone taste…
It tastes a bit like a take away noodles which is sold by Ramen joints in Japan with packaged condensed soup. 
Noodle 2/5
Nice size, but a bit bland. They also asked me with a choice to have thinker noodle as well.  Perhaps Thin noodle is not their thing?
Topping 2.5/5
Some Kikurage, small portion of ginger,… nothing to write home about..
Atmosphere 4/5
Very nice contemporary feel. Menu is nicely designed and place is cute.
Price 4/5
Nice lunch price £10 with fried rice.
Overall 3/5
They serve Shio (salt), Shyoyu, Miso, Yasai (vege), Tonkotsu and they have a choice from two types of noodles.
This is a typical London Ramen restaurant, – speading themselves too thin.
I am a fan of Ramen join only doing one good soup and noodle and sticking to it. If I want Miso I go to Miso Ramen joint,,,.. I don't want it from a chef who does Tonkotsu and Miso.
Understandably this is a different context from Japan and people want all kinds of Ramen in one place..
May be Curry, and Sushi as well??
If this place was in Japan, this place would be on the verge of bankruptcy, but I have to try their other Ramen first.

Muga
5 Panton St, London SW1Y 4DL
https://www.facebook.com/pages/Ramen-Dining-Bar-MUGA/1562251140695379