Price: £11 + 12.5% service charges

So I heard Tonkotsu Ramen on Dean st. in Soho has opened up a new venue in Haggerston. I have been the one in Soho and well, I wasn't so impressed but this is a first Ramen place to open near my neighbourhood so I had to give it a go.
Menu is similar to the one in Soho but they somehow didn't have any beers and we were asked to bring our own beers.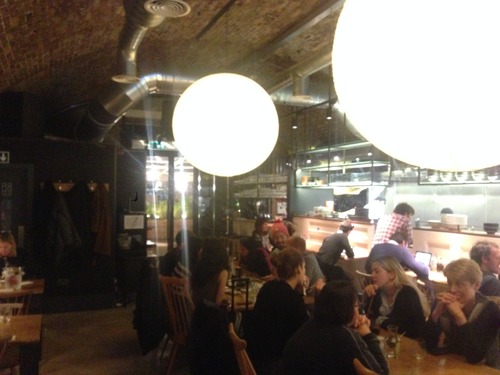 Atmospere: 5/5
They have converted one of the train arches to a nice architecturally designed trendy looking ramen restaurant. Staff was very nice too.
Noodle: 3/5
They make their own noodle in house, which is great. They even 'show off' the noodle making machine inside a glass window, a bit like how they show off people making pizza in some Italian restaurants.
They make Hoso-men (thin noodles) similar to Hakata Ramen. Quality is ok, not bad..
Price: 2/5
£11 + 12.5% service charges
 Soup: 2/5
Ramen soup should be hot, whether it's Miso, Shoyu or Tonkotsu. But this one was lukewarm. And it was too think and too little soup. I kind of wanted to ask for some hot water and add it in the bowl. This made me think may be they use some kind of pre-made soup stock and they dilute with hot water?
This high viscosity, low volume, low temperature symptom is also reported at Bone Daddies in Soho was well
Not a very good sign, especially if you order Kaedama (extra noodle) Read my arrticle on professional Kaedama strategy seen at Ippudo in NYC. They do it right.
Topping: 2/5
Chyashu Pork is too thick and fatty. It's not about being generous with amount of pork but it is about creating the right texture and taste in combination with the noodles and soup.
Another Ramen joint relying on PR and decor as opposed to taste of Ramen in a hipster neighbourhood.
With this pricing and taste, even if the atmosphere is nice and place well located, it would go bankrupt in Japan.
Overall: